Independence Day / Utsav / India Day 2010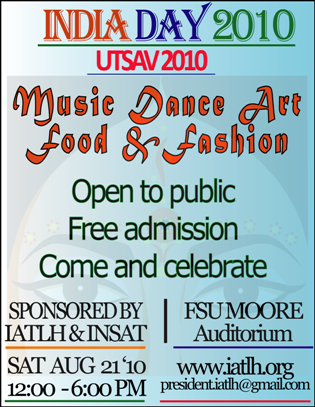 India Association of Tallahassee (IATLH) will be celebrating Indian Independence Day, Utsav - a cultural program, and India Day - a food and handicrafts fair, between 12:00 Noon and 6 PM on Saturday, August 21, 2010 at Moore Auditorium and quadrangle in front of Moore auditorium, FSU Campus.
INSAT, and FSU-Center for Global Engagement (formerly FSU International Center) are co-sponsors of this program. The event is open to public and the admission to the cultural event is free. Everyone is welcome to attend it with their families and friends!
Food and handicrafts vendors will be selling items for purchase. Please note that food and drinks are NOT allowed inside the auditorium.
Details of the program are given below:


Last updated: Thursday, August 19, 2010


Event submission deadline: Fri, Jul 09, 10
Participant line-up deadline: Fri, Jul 23, 10
Vendor deadline: Fri, Aug 6 , 10
Please limit two events/participant
Non-filmy (non Bollywood) items only, please